Childhood Smiles
Most Advanced Pediatric Dental Clinic in Bangalore
"Childhood

Smiles"

is

the

first

exclusive

pediatric dental care center

in

the

north

part

of

Bangalore.
Our Happy Patient
Our Brand Ambassadors
Childhood Smiles
Your Pediatric Dental Clinic
Space Room
Spaced Themed Dental Treatment Room for Kids
Space Room
Spaced Themed Dental Treatment Room for Kids
Space Room
Spaced Themed Dental Treatment Room for Kids
Jungle Room
Jungle Themed Dental Treatment Room for Kids
Jungle Room
Jungle Themed Dental Treatment Room for Kids
Jungle Room
Jungle Themed Dental Treatment Room for Kids
Jungle Room
Jungle Themed Dental Treatment Room for Kids
Play Area
Place for kids to get acquainted with the clinic ambience.
Play Area
Place for kids to get acquainted with the clinic ambience.
Library for Kids
Read Your Favorite Book
Reading Station for Parents
Parents can enjoy magazines, books and other literature.
What

We

Do

to

Ensure Your Kid's Smile
Our

Chief

Pediatric

Dentist
BDS, MDS – Pediatric Dentistry
Certified for Conscious Sedation
Certified for Myofunctional Orthodontics
Certified for care of Autism Spectrum Disorder

Life member of ISPPD (Indian Society of Pedodontics & Preventive Dentistry).

Life member of SAAPD (South Asian Association of Pediatric Dentistry).

Life member of ISDT (Indian Society of Dental Traumatology).

Life member of the foundation for orofacial myotherapy.

Member of IAPD (International Association of Pediatric Dentistry).
What Their Parents Say
Our

Happy

Patients
Best doctor for kids ! First clinic space is really designed well which attracts kids, the treatment area is themed based which kids love. There is also TV 📺 installed on the roof where kids can enjoy their fav cartoon while doctor is doing her job. About the Dr , she is super friendly & very polite to handle kids. Recommend 100% .
One of the best dental clinic for kids. Doctors are experienced and understand the child problem and start the treatment accordingly. My kid liked the toys and books kept there and he also got a surprise gift after he finished his treatment.
It was the best experience for my son who is just 5 years old. We visited a lot of clinics but they couldn't manage my son. Here mam is having a lot of patience she handled him very nicely. She is very very calm, well spoken which made us trust this clinic. We have done fillings and crown with the anesthesia process. It was so smooth and they follow up after we came back from clinic. Overall it's a 10 on 10 experience for me. Thank you so much mam and other staffs for your help and co-operation.
Doctor Debarchana is very friendly , patient and caring too. Gives lot of time for each kid and look ups for kid comfort during treatment. My daughter never complained about the pain or irritation during the treatment or afterwards..actually she was excited to go clinic for the follow up visit. Now my baby is happy with her new tooth. Thanks to Doctor and her team... I highly recommend Childhood Smiles for Pediatric Density.
Absolutely excellent experience with Dr Debarchana. She is very patient with the kids and ensures that the treatment is as painless as possible for them. The clinic is well thought out and designed especially for kids to make sure they cooperate in the treatment. Highly recommended!
My daughter was having a lot of teeth in bad condition which has been restored really well. She explained the procedure thoroughly and had a clear plan for every sitting. My daughter was really comfortable with Dr. Debarchhana and cooperated well throughout the procedure. I highly recommend Dr. Debarchhana for kids having any dental issues.
Childhood Smiles was one of the best experience for our children from Childrens Home 1. Child friendly place: usually children are very scared of dentist but my child was waiting for the next appointment. 2. Dr Debarchana is very professional and kind. 3. Within 5 to 6 sessions we could see great improvements.
We visited for our two year old kid with cavity. We were really worried in the beginning how will our baby co-operate. Thanks to the kid friendly set up ,play area, friendly environment at childhood smiles that reduced all our anxiety and made our kid comfortable. Dr Debarchhana was patient enough to handle our small one in every visit and helped us with all the instructions in detail. A big thank you to Dr Debarchhana and her team.
Dr. Debarchana alongwith her staff were very warm and welcoming. We visited the clinic for our 2 yr son's cavity treatment. The dentist office itself was absolutely adorable, well thought out, and clean. The place has very nice ambience for kids to settle down before treatment with a play area. My son absolutely loved this place. Absolutely recommend this place to all the parents worried for their kids dental problems.
I had visited childhood smile Clinic for my 6 year old son, he was treated by Dr Debarchhna. First of all, the doctor was extremely friendly and made my son comfortable with the surrounding such that he did not cry for the first time. And he got Bravery award and gifts too 🙂 .she properly explained his condition and treated according. The clinic was well managed and playful surroundings for kids. I highly recommend this clinic and Dr Debarchna and assure that no patient of her would be disappointed.
I took my 5 year old for dental treatment (Pulpectomy) and he loved the place. The doctor is very friendly and explains everything in detail. The place is very kid friendly, spacious and clean. Cartoon and space themed consulting rooms make the place very attractive to kids. The treatment was entirely painless unlike our past experience in a different clinic. My son was actually excited to go back for the follow-up visit.
The best hospital and doctor to get our kids teeth problems cured. Very neat and good ambience. Quick response for appointments and very less waiting time. Every visit doctor herself gifts our child and a bravery certificate post any teeth procedure. Loved it.. 😁😁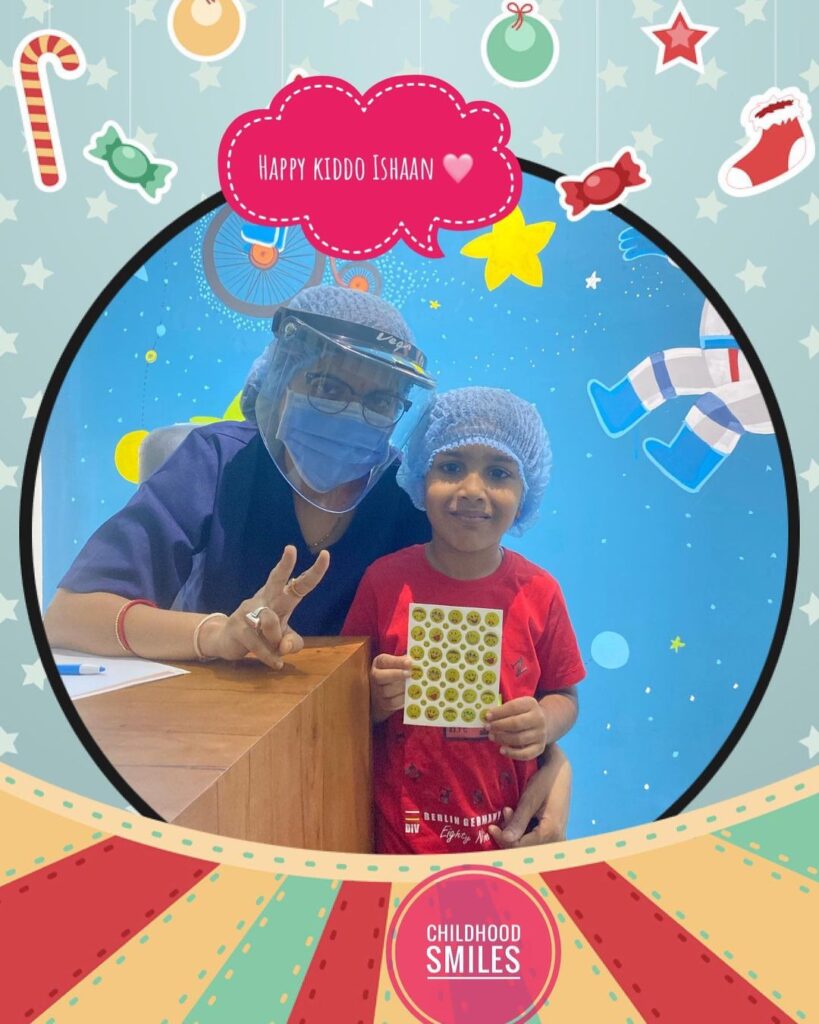 Excellent experience at the clinic. Absolute professional,his way of explaining things really puts you at ease.My son is not complaining any pain and treatment is working fine. The best dental care I have ever experienced! Professional, courteous, and friendly staff made me feel like family.
Dr Debarchhana is very attentive and give complete health details of the tooth and its treatment for my son. I am being hearing impaired, she patiently helped me in writing the notes on the health of tooth and its treatment of my son for me while I am unable to hearing clearly. This is much appreciated for her kind gesture. I would recommend her for anyone without doubt.
Follow-us on
Social
Media