Childhood Smiles
Most Advanced Pediatric Dental Clinic in Bangalore
"Childhood

Smiles"

is

the

first

exclusive

pediatric dental care center

in

the

north

part

of

Bangalore.
Childhood Smiles
Your Pediatric Dental Clinic
Space Room
Spaced Themed Dental Treatment Room for Kids
Space Room
Spaced Themed Dental Treatment Room for Kids
Space Room
Spaced Themed Dental Treatment Room for Kids
Jungle Room
Jungle Themed Dental Treatment Room for Kids
Jungle Room
Jungle Themed Dental Treatment Room for Kids
Jungle Room
Jungle Themed Dental Treatment Room for Kids
Play Area
Place for kids to get acquainted with the clinic ambience.
Library for Kids
Read Your Favorite Book
Reading Station for Parents
Parents can enjoy magazines, books and other literature.
What

We

Do

to

Ensure Your Kid's Smile
Our

Chief

Pediatric

Dentist
BDS, MDS – Pediatric Dentistry 
Certified for Conscious Sedation
Certified for Myofunctional Orthodontics
Certified for care of Autism Spectrum Disorder

Life member of ISPPD (Indian Society of Pedodontics & Preventive Dentistry).

Life member of SAAPD (South Asian Association of Pediatric Dentistry).

Life member of ISDT (Indian Society of Dental Traumatology).

Life member of the foundation for orofacial myotherapy.

Member of IAPD (International Association of Pediatric Dentistry).
What Their Parents Say
Our

Happy

Patients
Really happy with the way doctor handled our 4 year old daughter and made her understand the treatment she is going to get and the follow up calls which used to come from the clinic on how she was doing after the treatment . Highly recommend the clinic Childhood Smiles and Dr.Debarcchana.
It was an Excellent Experience visiting and getting my Kid's Teeth issues resolved. Doctor and her entire Team are Excellent and they take care of each and every things cautiously and with great patience. Doctor made my 4 year son so comfortable that he wanted to visit the clinic frequently. The entire treatment process went well with their patience and care about small kids.The clinic is well equipped, clean with necessary precautions being taken care. Overall it was a great Experience, highly recommended for little ones Dental issues.Kudos to the Entire Childhood Smiles Team.
Childhood Smiles was one of the best experience for our children from Childrens Home 1. Child friendly place: usually children are very scared of dentist but my child was waiting for the next appointment. 2. Dr Debarchana is very professional and kind. 3. Within 5 to 6 sessions we could see great improvements.
We visited for our two year old kid with cavity. We were really worried in the beginning how will our baby co-operate. Thanks to the kid friendly set up ,play area, friendly environment at childhood smiles that reduced all our anxiety and made our kid comfortable. Dr Debarchhana was patient enough to handle our small one in every visit and helped us with all the instructions in detail. A big thank you to Dr Debarchhana and her team.
Dr. Debarchana alongwith her staff were very warm and welcoming. We visited the clinic for our 2 yr son's cavity treatment. The dentist office itself was absolutely adorable, well thought out, and clean. The place has very nice ambience for kids to settle down before treatment with a play area. My son absolutely loved this place. Absolutely recommend this place to all the parents worried for their kids dental problems.
Dr. Debarchhana was very patient and friendly with my 3 yr old daughter to clean & fix her cavities. The doctor takes utmost care in safety of the patients. All instruments are newly used and sterilised wherever necessary. She gave enough time for my kid to settle down and take the procedures. She's very patient with the kids, my daughter even bit her hand in an occasion. The Doctor explains all the present condition and plan & outcome to restore it in the best way possible through follow ups. My daughter was very happy to go to the clinic as it's a very kid friendly environment as my kid gets to play the toys, able to watch her favourite cartoons during procedures and the gifts that she receives from the doctor. Totally, a nice place for kids dentistry!
Doctor and her team mates are very friendly and professional. Doctor is very punctual, patient, calm n cool with motherly nature, she addresses baby with full care and tries to explain the pre & post procedure well. She s awesome person with her expertise. We are delighted with the attractive take aways for kids she gives every time we visit her. Appointment & reminder call for confirmation, Treatment, post proceedure follow up are very structured and overwhelming...very 😊 happy n delighted with her treatment. I am Thankful to my friend for referring her for my 1 yr old toddler.
Highly recommend this place for paediatric dentistry. Extremely well maintained and hygienic. Has a nice play area for kids as well. Doctor is so patient and found a way to check my kiddo's teeth. My child enjoyed the experience rather than getting a clinic feeling! We learnt couple of good things on kid's oral care.
Overall it was good experience considering that we were visiting a dental clinic for our two year old. the clinic and the environment had been nicely designed like creche and provides playful environment to the kids. the pediodontist (Dr Debarchana) was very kind and provided the right treatment. we would definitely the clinic and the doctor
I recommend the doctor I visited for Dental Restoration, Dental Fillings, Gap Closing Doctor was very friendly and cooperative with my kid.He never felt it as treatment but enjoyed with doctor.doctor was very kind and polite with us.In future we recommend my colleagues, all relatives to contact this doctor for any dental issues.My heartful thanks to Dr.Debarchchana Jena for her wonderful concern towards my son.thanks a lot madam. Nandini Mahantesh
Had a great experience with Dr Debarchhana. She is super friendly and is well equipped with information and has a very modern approach. We were earlier very stressed about my daughter's cavities but after talking to the doctor we felt at ease as she explained the problem and the solution properly. The clinic is built in a way which is absolutely child centric. The staff is also very good and friendly. They have a small play area, library and also a tv on the ceiling which keeps the child distracted while the doctor is performing the procedure. The child also got "bravery certificate" and a lot of goodies during the whole procedure so she was always willing to go back to the place and did not feel any anxiety before visiting. Will totally recommend Dr Debarchhana and childhood smiles clinic to the parents
My Daughter has been treated for her tooth issues by Dr Debarchana Jena since last 3 years. I must say , she is one of the best pediatric dentists we have experienced. Highly recommended. Thank You !
It was really great experience visiting this clinic and getting dental issues fixed for my four year old kid ..the doctor really has lot of patience when dealing with kids , she never gets irritated or rushes…in the first visit we felt difficult as the kid was not following instructions and she spent good amount of time so that kid gets used to the environment . the subsequent visits were really worked. And the little play area , the gifts post treatment to kids , the bravery certificate, and the TV that is attached to ceiling ..all these arrangements did make the kid feel comfortable and excited.. once again thanks to the doctor and staff
The best hospital and doctor to get our kids teeth problems cured. Very neat and good ambience. Quick response for appointments and very less waiting time. Every visit doctor herself gifts our child and a bravery certificate post any teeth procedure. Loved it.. 😁😁
I had visited childhood smile Clinic for my 6 year old son, he was treated by Dr Debarchhna. First of all, the doctor was extremely friendly and made my son comfortable with the surrounding such that he did not cry for the first time. And he got Bravery award and gifts too 🙂 .she properly explained his condition and treated according. The clinic was well managed and playful surroundings for kids. I highly recommend this clinic and Dr Debarchna and assure that no patient of her would be disappointed.
I took my 5 year old for dental treatment (Pulpectomy) and he loved the place. The doctor is very friendly and explains everything in detail. The place is very kid friendly, spacious and clean. Cartoon and space themed consulting rooms make the place very attractive to kids. The treatment was entirely painless unlike our past experience in a different clinic. My son was actually excited to go back for the follow-up visit.
The best hospital and doctor to get our kids teeth problems cured. Very neat and good ambience. Quick response for appointments and very less waiting time. Every visit doctor herself gifts our child and a bravery certificate post any teeth procedure. Loved it.. 😁😁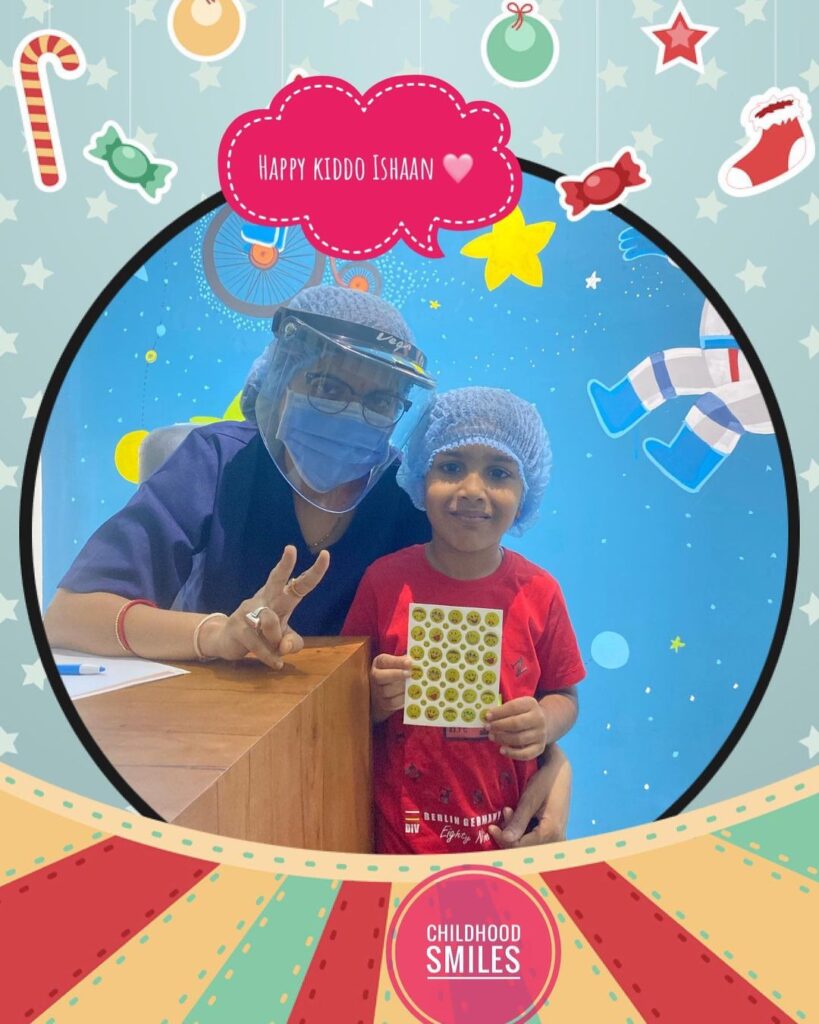 Excellent experience at the clinic. Absolute professional,his way of explaining things really puts you at ease.My son is not complaining any pain and treatment is working fine. The best dental care I have ever experienced! Professional, courteous, and friendly staff made me feel like family.
Dr Debarchhana is very attentive and give complete health details of the tooth and its treatment for my son. I am being hearing impaired, she patiently helped me in writing the notes on the health of tooth and its treatment of my son for me while I am unable to hearing clearly. This is much appreciated for her kind gesture. I would recommend her for anyone without doubt.
Follow-us on
Social
Media